• Tracking the Progress of Interstate 69 in Texas
» Alliance Annual Meeting/Luncheon Set Nov. 25th
The Alliance for I-69 Texas will hold its annual meeting and luncheon November 25th at the Houston Hyatt Regency Hotel. Texas Transportation Commission Member Alvin New will be the keynote speaker. Mr. New is the former mayor of San Angelo. Sponsorships are available at $5,000, $3,500 and $2,500 levels. You can download registration and sponsorship forms here:
Luncheon Reservation Form
Luncheon Sponsorship Form
» I-69 Advocates Stage Successful DC Fly-in
Community leaders from along the I-69 route in Texas and seven other states met with members of Congress and federal officials during an annual Washington, D.C., fly-in event in September. In their disucssions they highlighted the need to sustain the momentum behind the I-69 initiative. They stressed the importance of I-69 as a national and international freight corridor connecting in Central United States to both Mexico and Canada. [Full Report] 
» Chairman Loyd Neal's Leadership Celebrated; Judge Sydney Murphy Elected Alliance Chair
Nueces County Judge Loyd Neal, board chairman of the Alliance for I-69 Texas (2014-2018), stepped down as chair as he retires from public office. Neal, the former mayor of Corpus Christi, suffered a series of health setbacks during the past year. His leadership in guiding the Alliance was celebrated during the organization's annual meeting in Houston in November 2018. Polk County Judge Sydney Murphy was elected to be the organization's new chair.. [Full Report]
» Congressman Babin Optimistic About Funding
Texas Congressman Brian Babin of Woodville told those attending the Alliance's Annual Luncheon that he is optimistic that the Congress will make progress in 2019 on passing a long-term fix to highway funding. Babin is a member of the House Transportation and Infrastructure Committee. He believes there will be bipartisan support in the committee and in the Congress for dealing with infrastructure issues and funding. He sees I-69 as a key pieces of infrastructure that should never be neglected. Babin is a leader of the multi-state I-69 Congressional Caucus. [Full Report]
» Construction to Begin on 9.5-Mile I-69E Gap
The Texas Transportation Commission has awarded a $118 million contract to upgrade to interstate highway standard a section of US 77 west of Corpus Christi in South Texas. The project will complete a seamless 31 miles of Interstate 69E stretching south from I-37 in northwest Corpus Christi. The segment includes a new relief route at the Driscoll which will eliminate one of the two last traffic signals on the US 77 route between I-37 and Brownsville. [Full Report]
» Two Projects Awarded Funding by NET RMA
Future Interstate 69 System projects at Texarkana and Marshall have been awarded financial support by the North East Texas Regional Mobility Authority (NET RMA), an agency created to accelerate development of transportation projects in the 12-county region. The 2018 awards total $500,000. [Full Report]
» Freight Corridor and Economic Development The Focus of A Successful I-69 Day in Austin
The Alliance had a successful I-69 Day in Austin on March 1st, combining a morning workshop on leveraging I-69 for economic development with a day of visits with members of the Legislature. Themes for the day were the importance of I-69 as a freight corridor and a driver for potential economic development. Alliance representatives called on members of the Texas House and Senate and their staffers to remind them of the importance of continuing to build out I-69 and to urge full appropriation of highway funding approved by Texas voters in 2014 and 2015. [Full Report]
» Completing I-69 Critical to Texas
Ed Emmett, Chairman of the Texas Freight Advisory Committee, believes Interstate 69 is the most important economic engine in the entire state of Texas. During the I-69 Alliance annual luncheon in Houston he said most of the future growth in the state will be in East Texas where adequate water supplies are available. The I-69/US 59 corridor is the backbone of this future growth area. Emmett said it is likely that future congestion on I-69 through the Houston metropolitan area will be so great that a port access bypass will be needed to get freight traffic to and from the region's seaports.Transportation Commission Member Laura Ryan talked to Alliance members about the challenges ahead. [Full Report]
» Texas' GIWW Designated as Marine Highway 69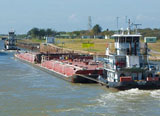 The Gulf Intracoastal Waterway linking all Texas seaports is now designated at Marine Highway 69, an approval that clears the way for seeking federal grant funding. Action by the U.S. Department of Transportation was sought by TxDOT and Texas ports which can develop projects along the waterway that will help relieve highway congestion by moving some future freight traffic from roadways to waterborne transportation. The designation acknowledges the connection between I-69 and the waterways that carry cargo in and out of Texas ports. [Full Report]

» I-69 Implementation Strategy Taking Shape
An implementation strategy for continuing the development of Interstate 69 is in place and is being refined by the 10 TxDOT District offices responsible for various segments of the I-69 Texas System. Judy Hawley, now former chairman of the I-69 Advisory Committee, provided members of the Texas Transportation Commission with an update on the implementation strategy. [Full Report]
» Congress Adds SH 44 to I-69 System
State Highway 44 from Corpus Christi to Freer, a distance of 73 miles, has been added to the congressionally designated I-69 Texas System as part of the new federal highway bill -- the FAST Act of 2015. The designation has been a high priority for the Alliance for I-69 Texas for several years and was carried by Congressman Blake Farenthold in cooperation with members of the multi-state I-69 Congressional Caucus. A route study for the section of SH 44 at Robstown has been initiated. [Full Report]


I-69 System Segments Part of National Interstate Highway System

7.8 Miles (I-69E/US 77) - Western edge of Corpus Christi
75 Miles (I-69/US 59) - Montgomery, Harris and Fort Bend (partial) Counties
3.5 Miles (I-369/US 59) - Texarkana south from I-30
53.3 Miles (I-69E/US 77) - Raymondville to Rio Grande
46.8 Miles (Interstate 2/US 83) - Harlingen to Palmview
18 Miles (I-69C/US 281) - Edinburg to Pharr, Hidalgo County
1.4 Miles (I-69W/US 59) - Laredo, Webb County
1.5 Miles (I-169/SH 550) - Brownsville, Cameron County
TOTAL MILES - 207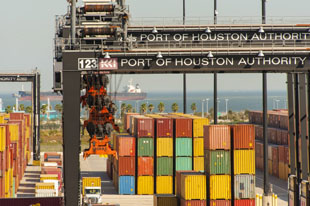 Serving Texas Ports
The 1,100 miles of existing highways that make up the I-69 Texas System route today serve as critical connectors to the deepwater ports at Houston, Galveston, Beaumont, Freeport, Point Comfort, Corpus Christi and Brownsville. Each completed Interstate 69 upgrade project extends the market reach of all Texas seaports which are vital engines of the Texas economy.
Miles of Existing Freeway

Sections of highway continue to be added to the Interstate Highway System as part of I-69. There are still more miles of highway along the I-69 route that are at freeway standard or near that level. More sections will be added to the system as they are evaluated and as projects are completed that provide the required controlled access, free flow and safety features that are the hallmark of interstate highways.