• Tracking the Progress of Interstate 69 in Texas
» Annual Meeting Luncheon Set Dec. 2nd
Save the date of Friday, December 2nd, and plan to attend the Alliance for I-69 Texas Annual Meeting Luncheon at the Hyatt Regency in Houston. The program will feature remarks by Ed Emmett, Harris County Judge and Chair of the Texas Freight Advisory Committee; Senator Sylvia Garcia, member of the Texas Senate Transportation Committee; and Laura Ryan, recently appointed member of the Texas Transportation Commission. The annual luncheon provides an opportunity to hear about freight infrastructure investment in Texas and the development of I-69. Please watch for a coming luncheon registration form. Sponsorship opportunities are available.
» Texas' GIWW Designated as Marine Highway 69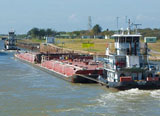 The Gulf Intracoastal Waterway linking all Texas seaports is now designated at Marine Highway 69, an approval that clears the way for seeking federal grand funding. Action by the U.S. Department of Transportation was sought by TxDOT and Texas ports which can develop projects along the waterway that will help relieve highway congestion by moving some future freight traffic from roadways to waterborne transportation. The designation acknowledges the connection between I-69 and the waterways that carry cargo in and out of Texas ports. [Full Report]
» I-69 Supporters Urge FASTLANE Grant Funding
State and local leaders representing the states on the Interstate 69 route were on Capitol Hill in Washington in May urging federal officials to continue the ongoing development of I-69. The large Texas delegation was lead by Transportation Commissioner Jeff Austin. The group met with members of the I-69 Congressional Caucus and with individual members of Congress and staffers urging the funding of two I-69 related project grant applications put forward by the Texas Department of Transportation, one at Laredo and the other northeast of Houston. [Full Report and Photos]

» Members Appointed to I-69 Advisory Committee

The Texas Transportation Commission has appointed 11 new members to the I-69 Advisory Committee and 12 current members have been reappointed. Judge Hugh Taylor, Harrison County Judge, has been elected as chairman of the committee which assists TxDOT in the planning process for the I-69 System in Texas. The committee was created in 2008 as a way to ensure that local communities and stakeholders were at the center of the I-69 highway corridor planning process. [Full Report and List]
» I-69 Implementation Strategy Taking Shape
An implementation strategy for continuing the development of Interstate 69 is in place and is being refined by the 10 TxDOT District offices responsible for various segments of the I-69 Texas System. Judy Hawley, chairman of the I-69 Advisory Committee, provided members of the Texas Transportation Commission with an update on the implementation strategy during their December meeting. [Full Report]
» Interstate 169 Segment Added to I-69 Texas System
The latest addition to the I-69 Texas System is a 1.5 mile segment of State Highway 550 in Brownsville that has been officially named Interstate 169 and is now part of the national Interstate Highway System. It is part of a 10 mile long direct connector from I-69E to the Port of Brownsville that is being developed by the Cameron County Regional Mobility Authority in partnership with TxDOT. The entire connector is anticipated to be at interstate standard in about two years. [Full Report and Maps]
» 6.1 Miles Added to I-69 at Edinburg and Robstown
The Federal Highway Administration has given final approval to adding 6.1 more miles to the Interstate 69 System in South Texas. This includes a 4.5 mile extension of I-69 Central adjacent to the Edinburg Airport in Hidalgo County and a 1.6 miles extension of I- 69 East on the south side of Robstown in Nueces County. That was part of the news delivered by TxDOT to the Alliance Board of Director while holding their Annual Meeting. [Full Report and Map] 
» Congress Adds SH 44 to I-69 System
State Highway 44 from Corpus Christi to Freer, a distance of 73 miles, has been added to the congressionally designated I-69 Texas System as part of the new federal highway bill -- the FAST Act of 2015. The designation has been a high priority for the Alliance for I-69 Texas for several years and was carried by Congressman Blake Farenthold in cooperation with members of the multi-state I-69 Congressional Caucus. A route study for the section of SH 44 at Robstown has been initiated. [Full Report]
» Overwhelming 83% Approval for Prop 7
Texas voters gave 83% approval to Proposition 7 on the November ballot. Starting in FY 2018 the measure will dedicate $2.5 billion a year in state sales tax revenues to the State Highway Fund. Starting in FY 2020 an additional amount from vehicle sales taxes -- about $500 million a year -- will flow to the Highway Fund. Sen. Robert Nichols and Rep. Joe Pickett were key champions of the successful constitutional amendment proposal along with statewide leaders, local officials and regional transportation advocates who worked to get the measure passed. [Full Report]
» Voters Urged to Pass Prop 7 Highway Funding
Texas voters will get the chance on November 3rd to approve Proposition 7, a constitutional amendment that will dedicate more than $2.5 billion each year in existing sales tax revenues to improving Texas highways and bridges. Prop 7 is supported by community leaders across the state and by state lawmakers, Gov. Gregg Abbott and other top Texas officeholders. This reliable continuing funding source will be important in sustaining steady progress toward building priority upgrade projects along the I-69 route in Texas in the coming years.
[Full Report]
» Signs Unveiled on Busy I-69 in Central Houston
Local, state and federal officials celebrated the addition of 12 more I-69 miles to the Interstate Highway System in a cheerful but rainy ceremony. During a federal update over lunch, Congressman Blake Farenthold said a long-term federal transportation bill is not likely in the coming months. Texas Transportation Commissioner Jeff Austin III said efforts to find new state funding for highways must continue in the coming years even after passage of Prop 1 in 2014 and the possible upcoming passage of Prop 7 this fall. [Read More/Photos]
» Alliance Issues Federal and State Call to Action
The Alliance for I-69 Texas has called for federal and state actions that will continue the forward momentum for development of upgrade projects on the I-69 system in Texas. It was part of the information presented to community leaders during an August meeting in Houston. [Full Report]
» Planning Groups Urge Marshall Project Progress
Three regional planning groups have jointly endorsed the I-69 route planning and community outreach efforts of the I-69 System (I-369) Harrison County/Marshall Working Group. The local working group has been building community consensus for an I-69 route at Marshall. The next step is to obtain funding for the required environmental clearance process. [Full Report]
» I-69 Supporters Urge Federal Highway Bill Passage

State and local leaders from the eight states on the Interstate 69 route were on Capitol Hill in Washington in April urging federal officials to continue the ongoing development of I-69. The large Texas delegation was lead by Transportation Commissioners Jeff Austin and Jeff Moseley. The group met with members of the I-69 Congressional Caucus and with individual members of Congress urging the adoption of a long-term highway reauthorization bill that provides increased funding for highway projects. [Full Report]
» I-69 Congressional Caucus Returns for New Session
South Texas Congressmen Blake Farenthold and Henry Cuellar joined four colleagues in re-launching the successful bipartisan I-69 Congressional Caucus for the new 114th Congress. The caucus has taken on the task of educating other members of Congress on the importance of I-69 and advocating for acceleration of I-69 projects. Approximately 750 miles of the I-69 national route have been completed to interstate highway standard and more are under construction. The route, which is an important freight corridor, runs through Texas, Louisiana, Mississippi, Tennessee, Kentucky, Indiana and Michigan. [Full Report]
» Texans Approve Highway Funding in a Big Way
Texas supported the Proposition 1 highway funding amendment by an overwhelming margin of 4 to 1 and the result will be that the state has more than $1.5 billion a year in additional funds for highway construction and preservation. Voters agreed to dedicate a portion of the state's oil and gas production tax to highways. The total oil and gas tax revenue will move up or down from year to year depending on production levels and energy prices. Governor-Elect Greg Abbott has joined others in stressing the need for additional highway funding. He made additional transportation funding a major theme of his successful campaign. [Full Report]
» 14 Miles of Upgrades Underway in Nueces & Kleberg
Four I-69E projects covering a total of 14 miles are under construction from Robstown to Kingsville in Nueces and Kleberg Counties west of Corpus Christi. Together the projects have an estimated cost of $151 million. The largest is a design-build contract covering 8 miles running north from Kingsville through Bishop. A second project covers 4 miles just south of Robstown. All of these upgrade projects will be part of Interstate 69 East. An unfunded future relief route around the town of Driscoll will close a final six-mile gap between Interstate 37 and Kingsville. [Full Report]
» Major Upgrades Coming to I-69 in Rosenberg Area
The Transportation Commission has awarded the first contract and work will get underway soon on more than $250 million in projects that will convert five miles of the I-69 Southwest Freeway at Rosenberg to an expansive superhighway.  This section of highway was added to the Interstate Highway System as I-69 in February 2013 but major upgrades are needed to meet traffic demand. Williams Brothers will rebuild and add lanes between SH 36 and FM 762. [Full Report]


I-69 System Segments Part of National Interstate Highway System

7.8 Miles (I-69E/US 77) - Western edge of Corpus Christi
75 Miles (I-69/US 59) - Montgomery, Harris and Fort Bend (partial) Counties
3.5 Miles (I-369/US 59) - Texarkana south from I-30
53.3 Miles (I-69E/US 77) - Raymondville to Rio Grande
46.8 Miles (Interstate 2/US 83) - Harlingen to Palmview
18 Miles (I-69C/US 281) - Edinburg to Pharr, Hidalgo County
1.4 Miles (I-69W/US 59) - Laredo, Webb County
1.5 Miles (I-169/SH 550) - Brownsville, Cameron County
TOTAL MILES - 207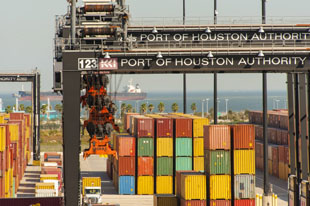 Serving Texas Ports
The 1,100 miles of existing highways that make up the I-69 Texas System route today serve as critical connectors to the deepwater ports at Houston, Galveston, Beaumont, Freeport, Point Comfort, Corpus Christi and Brownsville. Each completed Interstate 69 upgrade project extends the market reach of all Texas seaports which are vital engines of the Texas economy.
Miles of Existing Freeway

Sections of existing freeway continue to be added to the Interstate Highway System as part of I-69. There are still many more miles of highway along the I-69 route that are at freeway standard or near that level. More sections will be added to the system as they are evaluated and as projects are completed that provide the required controlled access, free flow and safety features that are the hallmark of interstate highways.